Rent apartments Lviv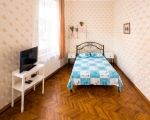 Address: Nechui-Levitsky, Str. 12
Rooms amount: 1
Price: 750 грн. / 28 $
•   Individual heating;
•   Parking;
•   Permanent water supply;
•   Refrigerator;
•   Hair dryer;
•   Iron;
•   Large double bed;
•   Electric;
•   Oven;
•   Cable TV;
•   Wi-Fi.
An apartment is situated in 15 minutes of walk from the Opera Theatre.
Rent apartments Lviv, rent Lviv, Lvov Rent Flat, Rent rooms, rent apartment in Lviv, apartment in Lviv, Daily Rental in Lviv Apartments.